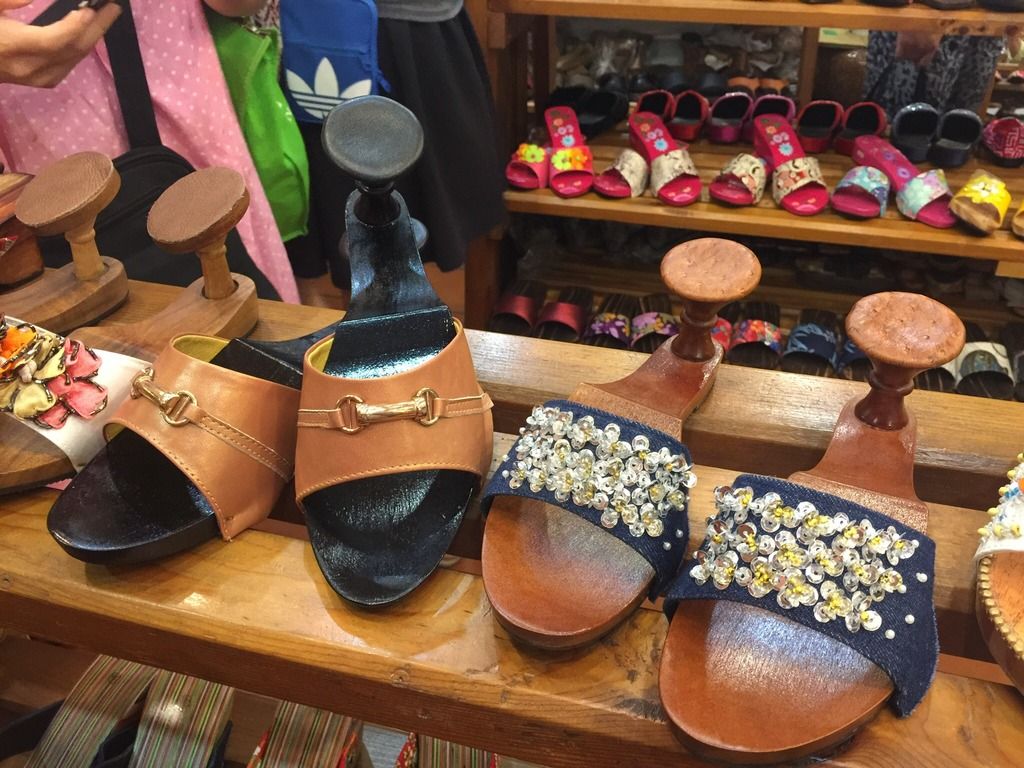 Seriously, have you seen shoes like this?!
Crazy! I wonder if the
Bata Shoe Museum
has a pair of shoes like this in their collection?!
I saw these shoes in
Jiufen Old Street
, a really neat place in
Taiwan
********************
Late last month I had the pleasure of visiting a neat rural shopping area in
Taiwan

called

Jiufen Old Street

, in Ruifang District.
It is
a tourist attraction
listed on
Tripadvisor
Visiting
Jiufen Old Street
was one of the highlights of my visit throughout
Taiwan
- it a narrow alley way full of shops. It is an outdoor market however there are many shop canopies and rooftop overhangs so it is fine to visit even if there is a bit of light rain.
Jiufen Old Street
is situated up on a mountainside in a very picturesque setting
Here is a quick video clip I took from an overlook area (a bus stop actually!) just outside the entrance to
Jiufen Old Street
.
Don't the colourful temples, the lush green hillsides and the bay make for a pretty surrounding?
Honestly, the only drawback to this place was that they allow trucks (yes, trucks!) and motorcycles through this narrow street. And some of the motorcycle drivers seemed rather aggressive and impatient with the tourists standing around browsing shops in the alleyway. It is understandable that a place selling so many inviting foods and souvenirs will attract crowds and people browsing in the alley. I feel it is a bit of a safety hazard for such a narrow area to share the alley with vehicles -
isn't there a back alleyway for the motor vehicles to use?
So, just be aware of the vehicles to stay safe and avoid getting hit
Do you like unique arts and craft shops?
You know, usually I do not find myself drawn to those type of shops or souvenir places. I was honestly really surprised by the quality of items they sell at this market, particularly the food. The food I tried tasted sooo good - I don't know if it was the fresh ingredients they used, the manufacturing / production process or what it was....I was extremely impressed with the quality of food, especially for a place tucked away high up on a hillside in a seemingly very quiet town.
The picture of the mochi place above and the Misty Gelato place are both seriously by far the best mochi and gelato I have tried - and I have tried many!
Aren't the bright colours on this temple rooftop so pretty?
Have you had a chance to visit
Jiufen Old Street
or
Taiwan
?
Where was the most recent place you travelled to?