Hands down
Hostgator
has exceptional customer service!
Hostgator
has always been able to help a non-techie like myself. They have been patient in explaining every step of a solution or simply carrying out the helpful steps for me on their end.
I highly recommend
Hostgator
as a website hosting company
There have been numerous occasions
Hostgator
helped me. If you wish to read how they most recently helped me, read on.
I struggled through several failed attempts of verifying ownership of my work website with
Google Webmaster Tools
. One way to do this is using a Google HTML Verification (via TXT and DNS). Google's written step-by-step was not easy to follow as I could not locate the webpage/tab that was stated as one of their first steps! One of the troubleshooting suggestions was to reach out to the company you purchased your domain from - mine was
GoDaddy
.
I cannot remember why my initial web developer suggested to purchase my domain from
GoDaddy
while having the website hosted by
Hostgator
. I trusted my web developer and did just that.
You know how the customer service for most companies is a hit and miss? Sometimes you get a helpful representative however the majority of the time you get someone who is probably more clueless than yourself? Yes, that is my experience with
GoDaddy
The
GoDaddy
sales rep offered something like "
oh I can send you an article that might help
." I was like, "
Thanks however
I do not need an article. I have an article in front of me that I am not able to follow through on. That is why I am calling
." He had no clue when I mentioned what specific step I required help, even worse he was not interested in understanding what I was asking help on, he did not offer to reach out to a colleague who could help and all he said was "contact Google" at which point I got off the call. Please, contacting
Google
is like contacting
Youtube
- doesn't work LOL
Next I contacted
Hostgator
via their live online chat. I got a hold of a very, very helpful rep whose name I forgot -
sooo sorry
:( A thing great about
Hostgator
staff is that every few minutes they reminded me that they required a few more minutes to work on a solution on their end, so I knew they were still there helping me instead of dead silence where you might be left wondering if they disconnected the chat. Also, they have a
chime
that sounds off when the sales rep types a response or question which I found extremely helpful! Long story short, this sales rep could not help me and mentioned the reason for the complication (apparently my website domain does not have the www in front.
How did that happen?
). Immediately he followed up and mentioned he would escalate the issue to a senior staff who would help and that's when the next rep,
James T
, helped me. I thanked the initial rep because I knew he did the best he could and he was tremendous help - as was James who managed to successfully link my work website to
Google Webmaster Tools
.
I asked James how I could help him in return, if I could put in a good word for him somehow. After all, he was incredible help and I wanted to offer my help in return to demonstrate my many thanks. He suggested I could leave feedback in a pop-up survey after our chat session ended or I could visit a website. I mentioned to James that I would fill out the survey to put in a good word for him. And gosh, the one time I wanted an online survey to pop up, it did not pop up and my chat window was closed so I no longer had the link to that website address to leave feedback - opps.
I am a huge supporter of commending great customer service.
This reminds me of a prospect client I met maybe three years ago. During the course of showings he mentioned he was serving on his condo board. Out of curiosity, I asked him how his experience was. He basically said all he heard from condo residents were complaints. No matter what solution he offered, you could never please 100% of the residents because they often wanted different things and sometimes even after you implemented an exact request, there are some individuals that are just not ever happy nor satisfied. He said serving on his condo board was "a thankless job". His words, "a thankless job", still stay with me. It is unfortunate that being in customer service may sometimes feel like that - sometimes you will do your best to help others however at times it may come across as 'thankless'.
Do you think if we, including myself, could demonstrate gratitude and thanks every time you feel thankful, perhaps it would help people, like that prospect client, feel better about their work and to feel more motivated in providing better service to help others?
Unfortunately it is very rare to come across great customer service that is helpful and reliable so when I do come across it, I want to spread the good news :)

I will share this message with hostgator's email support because I believe it is always great to acknowledge someone who has gone out of their way when offering help.
Thank you so much Hostgator staff for always being so helpful, reliable and readily available :)
Do you use a web hosting company?
When was the last time you received great customer service?
When was the last time you felt thankful for something?
***********************************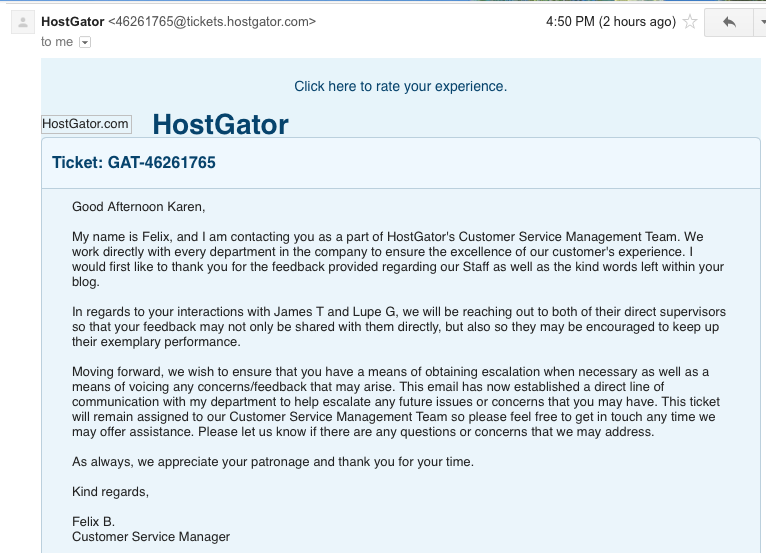 Update: Received a very quick email reply from
Felix
at
Hostgator's
Customer Service. Felix confirmed the name of the first very helpful sales representative,
Lupe G
, who helped me along with
James T
.
Many, many thanks again
Hostgator
team!
You guys are awesome and I highly recommend your company :)