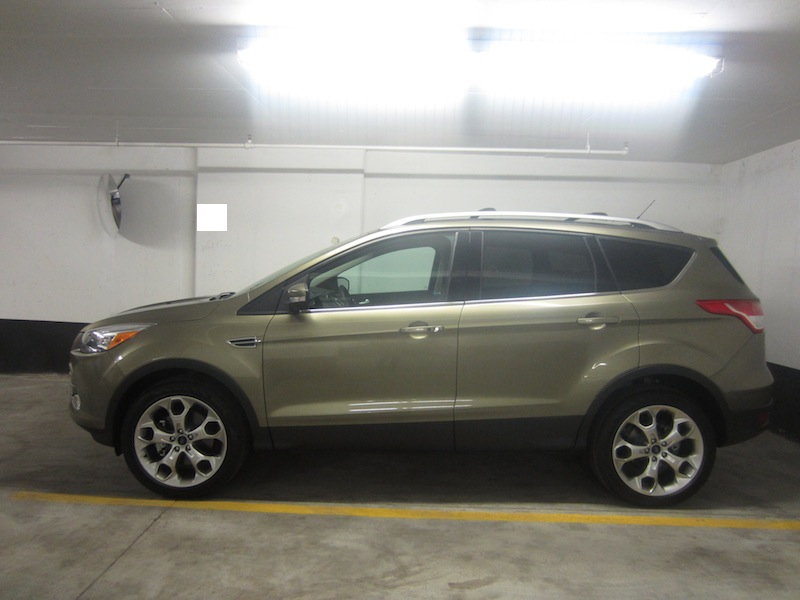 It took awhile but I love my car :)
I'm not going to go into an in depth review because I am not an expert on vehicles.
I have the Titanium 4WD model because I wanted very specific safety features that only came on that model. With that being said, I love my
SUV
because I wanted the height and power of an
SUV
but not the excessive bulk of one since I live and work primarily in
Downtown Toronto
. It has exceptional pick up for a four cylinder (I have the 2.0 L engine) and I can make tight turns in it (compared to other SUVs I have driven).
However my one (and so far only) complaint is the fact that my brand new built-in
GPS
does NOT function properly in
Downtown Toronto
. Let me explain that further. I only have a problem with my
GPS
in
Downtown Toronto
when I am exiting from my underground parking which does not allow any
GPS
signal. Yes, it is typical for almost all
GPS
models to not work in underground parking lots however they all seem to start working and recalculate routes within a couple of minutes of exiting an underground parking area and driving out into the open air. That is not the case with my built-in
GPS
. After driving out of my underground parking lot, I have waited up to 25-30 minutes in open air on the street for my
GPS
to start working and it will not pick up a legitimate signal. I have even tried restarting my
GPS
several times while in
Downtown Toronto
and it still does not give me the proper signal indicating my correct location. Instead, the
GPS
usually indicates that I am somewhere in the
Mount Pleasant area
or the
Rosedale Ravine
which is not anywhere close to where I actually am in
Downtown Toronto
. My
GPS
will only start to pick up the correct signal when I am outside of the
Downtown Toronto
area away from the condos and high rise towers (e.g. far out on the
Gardiner Expressway
or when I get onto the
Don Valley Parkway
North). The interesting twist is this: if I am driving into
Downtown Toronto
from a suburb or a city/town without high rises around, my GPS will work in
Downtown Toronto
. I have already brought my brand new car into the dealership this past week to check out the
GPS
system and it came back clear - the service personnel informed me there was nothing they could do about my
GPS
not working in
Downtown Toronto
because according to
Ford
, there are simply places the
GPS
will not work and they are not liable for that (nor will they credit me any refund for the fact that I paid for the upgraded built-in
GPS

which fails to work in a geographical area that I spend plenty of time in
).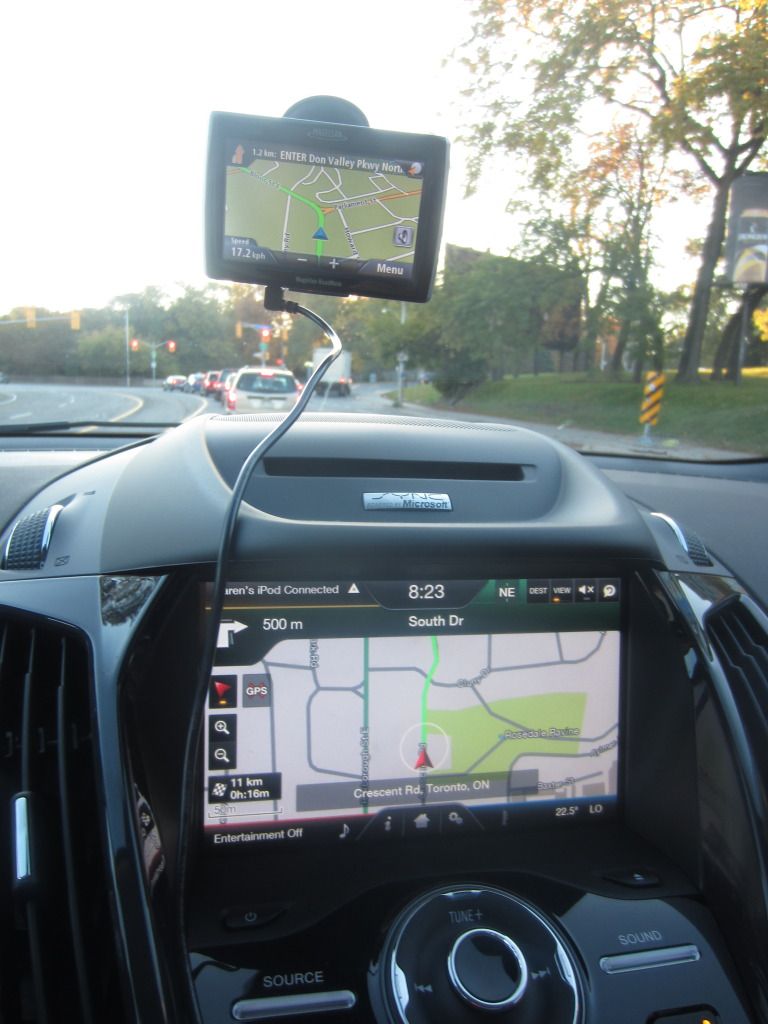 This was a picture I took this morning while driving towards the
Don Valley Parkway
North out of
Downtown Toronto
(I was stopped at a stop light or else I would not have taken the picture)
.
The
Magellan Roadmate 1470
(which I reviewed
here
) on my windshield shows my correct location but as you can see below on my built-in navigation
GPS
the location is showing a totally different location. I have taken a zoomed in picture of both GPS systems so you can see that the two different GPS systems are indicating different locations.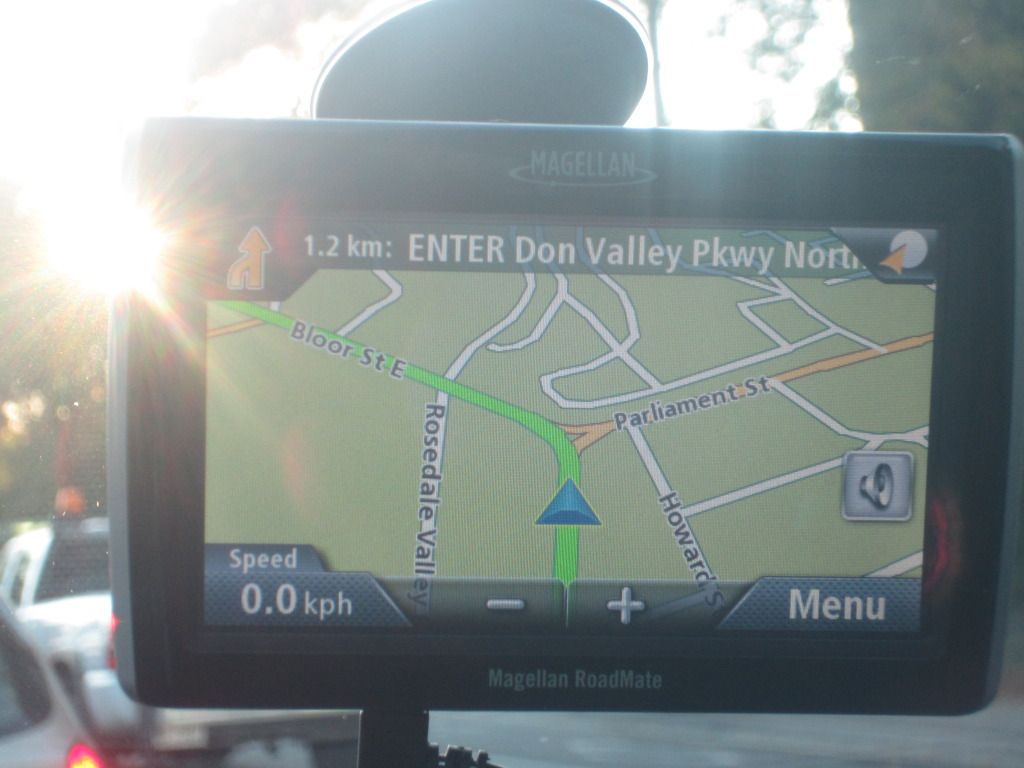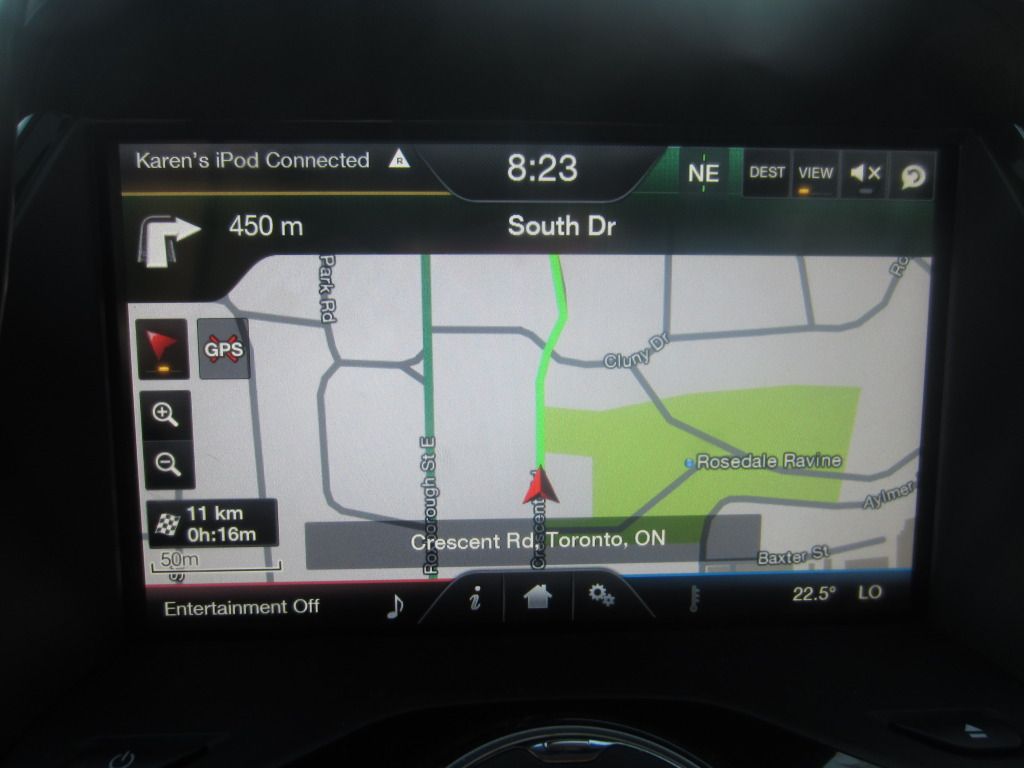 While my
Ford Escape 2013
built-in navigation system is indicating the incorrect location with wrong directions.
You can see how it's a pain for me to have a separate
GPS
in my car in addition to my built-in navigation system especially since I paid for that upgrade.
So my advice is, if you are living in a big city with a lot of high rise towers or
condos
and you are interested in the
Ford Escape 2013
with the built in Navigational
GPS
, park the car in an underground parking lot of a high rise tower. Drive out of the tower and see how long your
GPS
unit takes to work....does it only work when you are out of the vicinity of high rise towers? If you have the same problem as I do, consider your alternatives (e.g. skipping the built-in Navigational
GPS
) especially if you will be spending the majority of your time around high rise towers where it will not function properly.
Have you had similar signal issues with your GPS?